MTCRE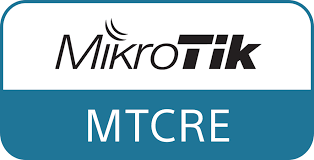 MTCRE means MikroTik Certified Routing Engineer. To be able to follow this course, you should have MTCNA knowledge. After following this course, you will be more familiar with Routing protocols that are possible to be used on MikroTik products.
The course is normally for 2 days and it will contains the following topics:
Static routing, route failover, ECMP
Routing marks, policy's, next hop, target scope
Point to Point adressing
VPN, EoIP, PPTP, SSTP, L2TP tunnels
VLAN, QinQ
All over OSPF
if you want to see the list of topics of the MTCRE course from MikroTik website, please click here
What you will get
By end of the day you will do an online exam and if you pass you will get a certificate and become MTCRE Certified
Cost
The price of this course is € 699,- (ex. VAT)
Including lunch and of course Coffee/Thea.
Location

In Hilversum - The Netherlands
How to apply to the course
If interested in this course, please write me to [email protected] providing your full name and address, and I will get back to you ASAP.