Hi all,
I am glad to inform you that I have received my 5th certificate from MikroTik after having previously done the MTCNA, MTCRE, MTCUME & MTCWE - The new incoming certificate is MTCTCE which is the abberviation of: MikroTik Certified Traffic Control Engineer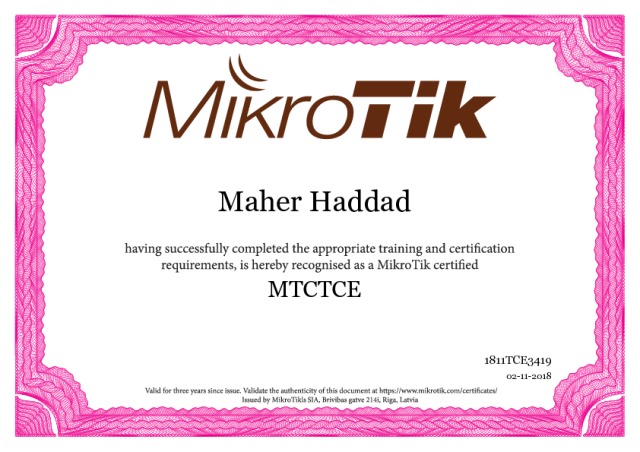 The course duration was for 2 days including the exam. The course contains a lot of interesting topics that any engineer working with MikroTik needed.
Topics such as DNS, DHCP, Firewall, Packet flow, HTB, Web Proxy and many other topics were included in this course.
The exam had 25 questions with a duration of 60 min and the passing score is 60%.

MTCTCE is considered a heavy course between all MikroTik courses (with MTCINE), for this many students fail from the 1st attempt so you should prepare well before entering the exam and know all details of the course. My suggestion to you is to repeat all LABs that you have done in day one (because that's the longer day in the course) when you come back at home. This will help to remember all details of the LABs because many exam questions come based on LABs scenario. Also asking questions to the MikroTik trainer during the class is something you should do to get the full concept of the ideas that he is explaining.
After achieving this certificate, I will surely make a new course which include real scenario LABs based on information that I have learned from the MTCTCE, so stay tuned!!!!!